HUBNETIX CABLINE NSR Series
Standing Network Rack
HUBNETIX CABLINE NSR 19" standing network racks are esthetically appealing designed for use as data network enclosures and are available in depths of 600mm to 800mm, and heights from 18U to 47U.These free standing cabinets/racks are cost-effective solution that is suitable for any office, IT or data center environment. All CABNLINE NSR-Racks provides wider cabinet footprint with additional interior space along both sides for cable management, cooling, power distribution and environmental monitoring for applications in IT environment.
Key Features
Available Heights: 18U, 22U, 27U, 32U, 37U, 42U, 47U
Arc vented front/rear high density door enable ventilation and reliable operation.
Front door is lockable, reversible and removable
Exquisite design with precise dimensions and craftsmanship
19" Standard Installation with adjustable dimension
Tough textured black powder coated finish resists conditions
Adjustable feet and heavy duty castors
Cable entry through top cover and bottom panel
Lockable and Removable side panels to ease maintain
Optional Fan trays for easy air flow
Height, width, and depth selectable, full range of optional accessories
Standard
Complies with ANSI/EIA RS-31O-D, IEC297-2, DIN41491: PART1, DIN41494: PART7,GB/T3047.2-92, ETSI Standard compatible.
Material
SPCC High-Quality Cold Rolled Steel
Thickness: Mounting profile 2.0mm, Mounting angle 2.0mm, Others 1.2mm
Surface Finish
Degreasing, Pickling, Phosphoric, Powder coated
Degree Of Protection
IP20
Loading Capacity
Static Loading 800KG (1763lbs)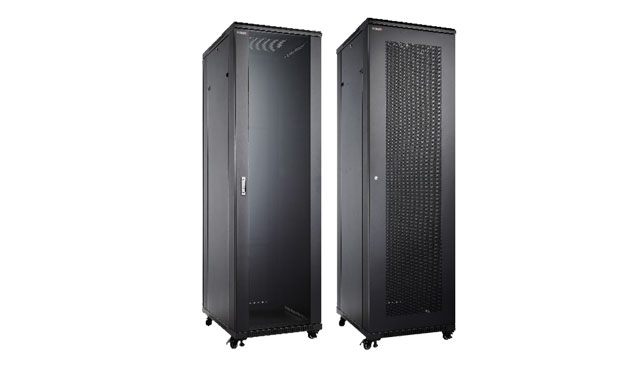 Part Number
Size(U)
Width (mm)
Depth (mm)
Height (mm)
mm
mm
mm