Hubnetix LANLINE Voice Cabling Systems
HUBNETIX is one of the trusted Cat3 Cables and Telephone cable suppliers in the EMEA Market. As communications is one of the key for smooth progress of business, a company need to invest with a trusted and reliable Communication cable suppliers and HUBNETIX is the right choice. We offer cutting edge technology solutions which ensure smooth transition of the business. Our solutions are designed in such a way that it helps the customers in cost saving and also helps in scalability to future growth.
Our solutions help customers to build a superior performing Infrastructure. Over the years, HUBNETIX products have gained the confidence of global customers. Our solutions are being used in many different projects across Europe, Middle East, Africa, Asia and Australia.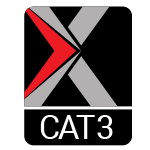 HLZ-C3U0224A-01X

HUBNETIX Category 3 U/UTP 2 Pair 24 AWG Cable PVC

HLZ-C3U0324A-01X

HUBNETIX Category 3 U/UTP 3 Pair 24 AWG Cable PVC

HLZ-C3U0424A-01X

HUBNETIX Category 3 U/UTP 4 Pair 24 AWG Cable PVC

HLZ-C3U0524A-01X

HUBNETIX Category 3 U/UTP 5 Pair 24 AWG Cable PVC

HLZ-C3U1024A-01X

HUBNETIX Category 3 U/UTP 10 Pair 24 AWG Cable PVC

HLZ-C3U1524A-01X

HUBNETIX Category 3 U/UTP 15 Pair 24 AWG Cable PVC

HLZ-C3U2524A-01X

HUBNETIX Category 3 U/UTP 25 Pair 24 AWG Cable PVC

HLZ-C3U5024A-01X

HUBNETIX Category 3 U/UTP 50 Pair 24 AWG Cable PVC

HLZ-C3U10024A-01X

HUBNETIX Category 3 U/UTP 100 Pair 24 AWG Cable PVC

HLZ-C3U20024A-01X

HUBNETIX Category 3 U/UTP 200 Pair 24 AWG Cable PVC

HLZ-C3U30024A-01X

HUBNETIX Category 3 U/UTP 300 Pair 24 AWG Cable PVC

HLZ-C3U40024A-01X

HUBNETIX Category 3 U/UTP 400 Pair 24 AWG Cable PVC

HLZ-C3U0224A-03X

HUBNETIX Category 3 U/UTP 2 Pair 24 AWG Cable LSZH

HLZ-C3U0324A-03X

HUBNETIX Category 3 U/UTP 3 Pair 24 AWG Cable LSZH

HLZ-C3U0424A-03X

HUBNETIX Category 3 U/UTP 4 Pair 24 AWG Cable LSZH

HLZ-C3U0524A-03X

HUBNETIX Category 3 U/UTP 5 Pair 24 AWG Cable LSZH

HLZ-C3U1024A-03X

HUBNETIX Category 3 U/UTP 10 Pair 24 AWG Cable LSZH

HLZ-C3U1524A-03X

HUBNETIX Category 3 U/UTP 15 Pair 24 AWG Cable LSZH

HLZ-C3U2524A-03X

HUBNETIX Category 3 U/UTP 25 Pair 24 AWG Cable LSZH

HLZ-C3U5024A-03X

HUBNETIX Category 3 U/UTP 50 Pair 24 AWG Cable LSZH

HLZ-C3U10024A-03X

HUBNETIX Category 3 U/UTP 100 Pair 24 AWG Cable LSZH

HLZ-C3U20024A-03X

HUBNETIX Category 3 U/UTP 200 Pair 24 AWG Cable LSZH

HLZ-C3U30024A-03X

HUBNETIX Category 3 U/UTP 300 Pair 24 AWG Cable LSZH

HLZ-C3U40024A-03X

HUBNETIX Category 3 U/UTP 400 Pair 24 AWG Cable LSZH